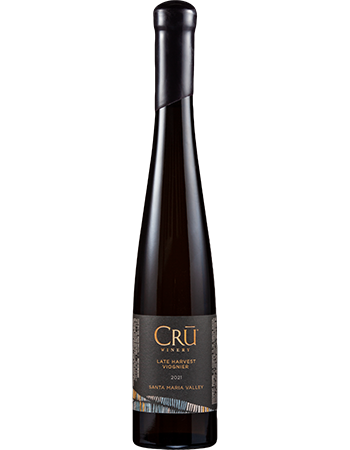 2021 Rancho Real Vineyard Late Harvest Viognier
Santa Maria Valley
We modeled this special and limited wine after French Sauternes. Recognized as exceptional wines, they are known for perfecting the balance of sweetness and acidity and the result is a wine that is a perfect finale to a meal.
In 2021, we had a few rows of Viognier in the Rancho Real Vineyard that we knew would be ideal for producing an exceptional late harvest wine. These grapes had developed botrytis, better known as noble rot. Botrytis is something winemakers usually want to avoid but is ideal when crafting late harvest or dessert wines. We hand-harvested the grapes for this special wine two months after harvesting our "regular" Viognier and treated the wine with extreme care once it arrived at the winery to ensure the sugar content was exactly what we wanted it to be.
The resulting wine is the perfect balance of sweetness and acidity and extremely limited with only 600 bottles produced. It leads with stunning notes of peach, nectarine and honeydew with rich flavors of orange zest, honey and apricot. The wine is beautifully balanced with acidity and a sweet, mouthwatering texture.
Pairing Suggestions:
We recommend serving the Late Harvest Viognier slightly chilled with panna cotta with fresh fruit or a cheese plate featuring gorgonzola, comte and aged gouda.
Wine Specs
Appellation
Santa Maria Valley
Aging
Stainless Steel Tanks