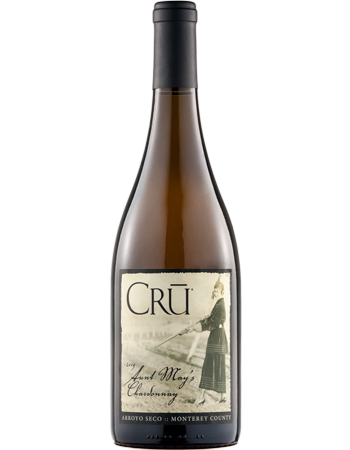 2019 Aunt May Chardonnay
Arroyo Seco
The 2019 Aunt May's Chardonnay was sourced from the marine influenced Marks vineyard in the windswept Arroyo Seco AVA. Arroyo Seco is defined by the Arroyo Seco waterway which has created a diverse geography over the millenniums. One of the smallest AVAs in California, Arroyo Seco's combination of unique soils, cool fog and wind from the nearby Pacific Ocean produce elegant, fruit-forward Chardonnay.
The Aunt May's Chardonnay is a tribute to CRŪ's founder, Richard Spencer's, beloved Aunt May. When Richard had just finished high school, she took a chance on him by financing his first "deal" paving the way for his successful career. Aunt May was quietly accomplished, generous, witty, sometimes a hot mess but pretty much always brilliant. With CRŪ's Aunt May's Chardonnay, we salute Richard's Aunt May and celebrate the spirit of her intellect, insight and intuition.
Just like Aunt May, this wine brilliantly shines with luscious notes of honey and apricot before leading into flavors of pineapple and pear with a streak of acidity that leads into the long, creamy finish.
With the luscious and bright notes in this wine we recommend pairing it with shrimp tacos or grilled citrusy salmon.
Wine Specs
Aging
10 months French Oak