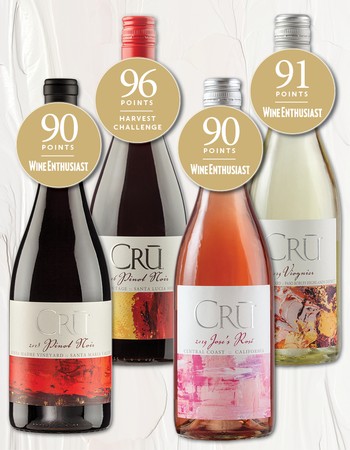 90 POINT PACK
4 wines each with 90+ points
Four of CRU Winery's 90+ point rated wines for only 90! Each pack includes one bottle of the following.
2018 Sierra Madre Pinot Noir
90 Points | Wine Enthusiast
Layered flavors of strawberry, bright cherry and baking spices balanced with acidity and soft tannins.
2016 Vineyard Montage Pinot Noir
96 Points | Harvest Challenge
Notes of freshly picked cherries, blackberries and cocoa with a hint of pomegranate and spice.
2019 Jose's Rose
90 Points | Wine Enthusiast
An abundance of bright strawberries and fresh pineapple with soft tones of guava on the juicy finish.
2019 Viognier
91 Points | Wine Enthusiast
Floral aromas of honeysuckle and apple blossom with flavors of sweet berries and green apple.